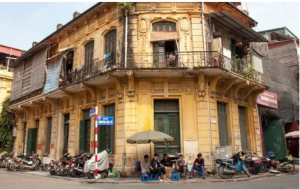 Premiumtraveltips.com – The combination between the old cultural heritage and the modernity is the most suitable words to describe Hanoi. Hanoi is the capital city of Vietnam, one of the country that we can found in Southeast Asia. Because of that combination, Hanoi should be one of the best, if not the best capital city that we can find in Southeast Asia. Full of attraction, calm yet Chaotic, and Traditional view can be find in Hanoi, Mostly the life the people in this city is take place in the street, it is so easy for traveler to enjoy all side of this city on a few days.
The best thing to do is to feel the historical things on the 36 side street that form the Old Quarter in here. every side of this street are so photogenic. Get lost cause you will find a way home  and then stopping just to enjoy ice lemon tea with the people in there will be an excited things to do in here. Swim cross the Hoan Kiem Lake that popular in here. Enjoy their street food with the taste of Five star one. Showing respect by visiting their Revolution hero in Mausoleum, And trying their night life when the sun is set, By doing this the traveler can know how interesting this city could be.
The must thing to do in here
Wake up in the morning for Pho
The best time to enjoy Hanoi is in the morning where there are not a lot of car in the road yet. Wake up on 5.30 in the morning and going to Hoan Kiem lake to seeing the old one having Tai chi and Yoga in there. And then we should start our morning in Hanoi by having one bowl of the popular Pho (read Fur). It is a bowl of noodle that having a meatball and also meat that will be complete by rich flavorful sauce.
Visiting The Temple of Literature
Temple of Literature  (Van Mieu) build on 1070 to showing the respect to Confucius on that time and also become the first University in this country. Inside this place we can see a familiar things that we can find when we are watching historical movie. A wide green grass that looks very calm, Lotus pond. and very old time red temple can be found in here.
And for the last thing that we must do in Hanoi is see the tradition of the tribe that Vietnam have. There are more than 50 minority tribe that we can find in Vietnam. So Vietnam Museum of Ethnology get this chance by showing their heritage to the world. In here we can find all the thing that in the past use by the minority tribe for their daily activities like their costume, their musical instrument and their household appliance.
Keep Calm and Go Travel the Worlds. Premiumtraveltips.com